INVIVO X , SARAH JESSICA PARKER SAUVIGNON BLANC
Sarah Jessica Parker's first ever wine was perfected in May when Invivo founders Tim Lightbourne and Rob Cameron travelled to New York City to create her new Sauvignon Blanc. They brought samples of the 2019 vintage, harvested in April. Over a three-hour session, Sarah Jessica and the Invivo team finalised the proportions from each vineyard to create the exact blending recipe used in the wine.
TASTING NOTES
Abundant notes of grapefruit, honeysuckle, passionfruit and citrus zest evolve from the glass. At first, the palate is expansive and leads with a wall of sweet-scented fruits and a soft – but balanced – acid spine. The mid-palate grows to another level, where supple phenolics offer a framework to further lift the fruit. The wine continues to unfold and is very long and persistent. This is a seriously drinkable Sauvignon Blanc that will continue to develop for up to seven years.
ACCOLADES
90 POINTS, Wine Spectator
GOLD, Frankfurt International Trophy 2020
GOLD AND 95 POINTS, The New World Wine Awards 2019
DOUBLE GOLD, The China Wine and Spirit Awards 2019
95 POINTS, Sam Kim's Wine Orbit
GOLD, New Zealand International Wine Show
GOLD, Concours Mondial du Sauvignon Blanc
BLUE GOLD, Sydney International Wine Competition
SILVER, International Wine and Spirit Challenge
SILVER, 90 POINTS, Decanter World Wine Awards 2020
SILVER, San Francisco International Wine Competition
SILVER, Global Sauvignon Blanc Masters 2019
90 POINTS, Wine.com
90 POINTS, Christopher Waters, The Globe and Mail, Canada
"Succulent and refreshing, with Key lime, preserved ginger and green apple candy flavors that are intense and focused. Reveals a hint of toasted green tea on the juicy finish. Drink now." – MaryAnn Worobiec, Wine Spectator
"This is fabulously fruited and instantly appealing on the nose showing passionfruit, kiwifruit, nectarine and lime zest characters with a gorgeous touch of musky complexity. The palate delivers excellent concentration and weight, wonderfully complemented by fine texture and brilliant focus. It is deliciously expressed and texturally delightful, making it hugely appealing. At its best: now to 2022." – July 2019 Sam Kim, Wine Orbit
"This is a ripe and expressive style of Marlborough Sauvignon Blanc, with pink grapefruit, passionfruit and floral notes. It's a more polished presentation, as opposed to zesty or bracing in nature, with a pleasing bright juicy fruit character and mouth watering finish. This is ready to drink now and over the next two or three years." – July 2020, Christopher Waters, The Globe and Mail
"Vibrant passionfruit and gooseberry nose, absolutely classic. The palate carries the bouquet's theme and has real intensity and lift. It's long, layered and very attractive." – Decanter World Wine Awards, September 2020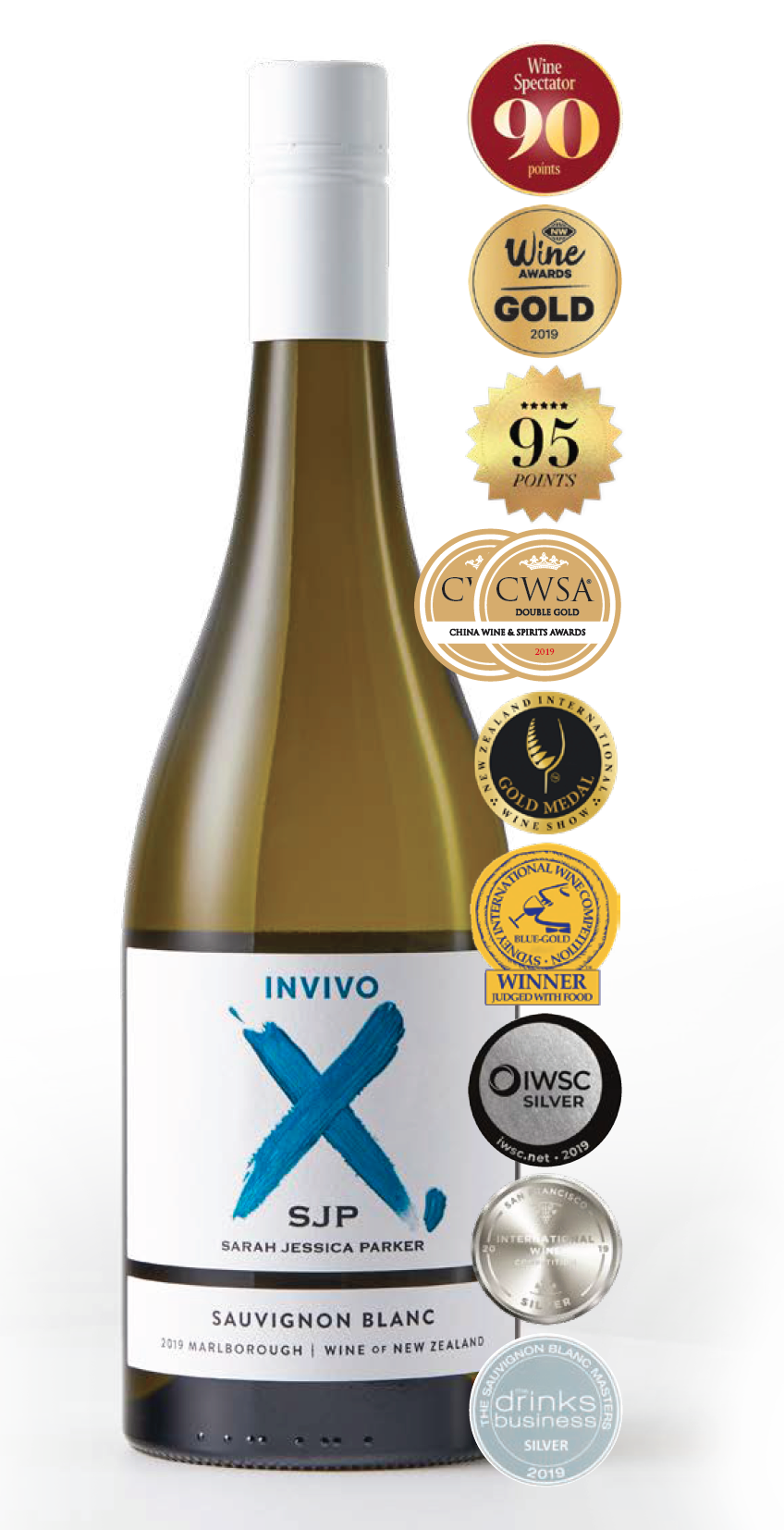 Block Name: Armidale Estate
Location: Middle Renwick
Soil Type: Fine silt over small river gravel
Block Name: Higgins Family
Location: Waihopai Valley
Soil Type: Silt loam over clay, fine shell and river pebbles
Block Name: Cobden Farm
Location: Awatere Valley river terraces
Soil Type: Complex soil homogenisation of large greywacke rocks within organic matter / loam media
Block Name: Westhaven Estate
Location: Dashwood
Soil Type: Heavy silt over clay, with seams of river gravel deposits
WINEMAKING
The Invivo X, SJP Sauvignon Blanc is a blend of five estates in Marlborough, spanning both the Wairau and Awatere Valleys. Sarah Jessica loved the intensity of style from the Waihopai Valley and has blended that with pure fruit aromatics from the Western Wairau and the power and purity found in the Westhaven Vineyard in the Dashwood.
The Westhaven vineyard is one of the last blocks of Sauvignon Blanc in Marlborough to be harvested and so has an extremely
long season to develop flavour and power. The 2019 vintage enjoyed an ideal growing season which allowed for gradual ripening, so harvest was timed to harness the maximum warmth and sunshine of summer.
Sarah Jessica loves the fruit purity of Sauvignon Blanc but also wanted to make a wine that was powerful and would age well. To achieve this, we needed to include a structural element to the wine. The Westhaven vineyard with its long season and ripe phenolic profile was the ideal candidate to push the boundaries! We held a portion of this fruit post-harvest in contact with its skins to extract some of the ripe phenolics (tannins). We introduced "blonde" (un-toasted) oak to some of the parcels to complement the naturally rounder wines, then vigorously stirred the lees of these tanks for three months. The resulting wines made for fascinating blending options that Sarah Jessica weaved into her wine.